Combustion Theory
---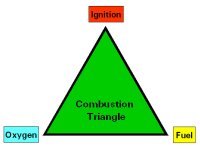 What is Combustion?
High speed fuel oxidization that produces light, heat and flame
Three necessary components: oxygen, ignition, fuel
If one of the components is not present, combustion does not occur
Removal of either fuel or air will stop combustion
---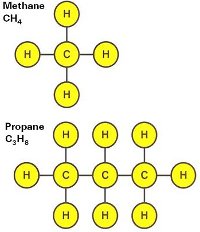 Gaseous Fuel Composition
Hydrocarbons determine calorific value
More carbon content means more heating value
A hydrocarbon is an organic compound consisting entirely of hydrogen and carbon. A molecule of propane and methane is pictured on the left.
---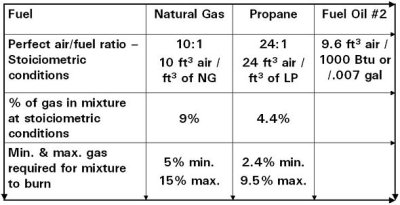 Fuel to Air Mixture
Hydrocarbons determine calorific value
More carbon content means more heating value
---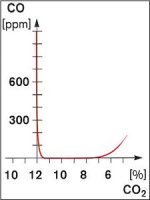 Fuel to Air Ratio
There are two ways of creating CO with the wrong fuel/air ratio
Insufficient air (sub-stoichiometric)
Too much air (over-airing)
Sub-stoichiometric conditions create CO very quickly
CO production with over-airing is less rapid
---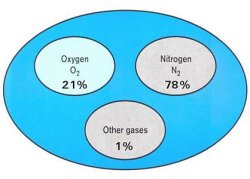 Air is Composed of:
21% Oxygen
78% Nitrogen
1% Carbon Dioxide and other gasses (argon, krypton, etc.)
---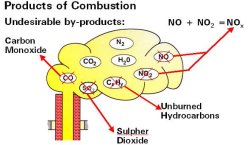 Combustion of Natural Gas
In simple terms, the chemical equation of natural gas is:
AIR + NATURAL GAS -> HEAT + WATER VAPOR + CO2

However, since the oxygen in real-world combustion comes from the air around us, undesirable byproducts in the form of nitrogen will be produced.
Perfect (Stoichiometric) Combustion
To mimimize the amount of 'undesirable' emissions, a perfect air to fuel ratio has to be achieved.
When theoretical perfect air/fuel mixtures are applied, stoichiometric combustion is achieved.
Eg: 10 parts air to 1 part natural gas
Each fuel has a maximum CO2 percentage when stoichiometric combustion is achieved
Natural gas: 11.8 - 12.5% CO2
Propane gas: 13.6 - 13.8% CO2
Fuel oil: 15.4 - 15.6% CO2
Real World Combustion
In the real world, it is very difficult to maintain the perfect 10:1 air/gas ratio due to a number of factors.
Air Temperature Changes
Air Pressure Changes
Varying Furnace Pressures
Varying Draft Pressure
Fan Contamination
---

Excess Air
The common way of expressing the usage of more than the stoichiometric combustion air is percent excess combustion air.
-Too little excess air creates CO and/or soot
-Too much excess air is a waste of energy
-For safety, the burner is usually adjusted for an additional 17-30% excess air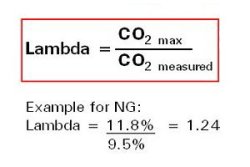 Measuring Excess Air
Excess air is measured by analyzing flue gas (exhaust gas)
Excess air is expressed as Lambda

---

Carbon Monoxide
Incomplete combustion causes single carbon atoms to combine with single oxygen atoms, productin carbon monoxide.

Reasons why CO is formed:

Insufficient air
Insufficient heat (chilled flame)
Too much air
CO is a an odourless, colourless gas
CO is undetectable without instruments such as a flue-gas analyzer
CO is a flammable gas that will ignite in the range of 12.5 to 74% CO to air
CO is created when the fuel/air ratio is not set correctly

Effects of Exposure to Carbon Monoxide
12,800 ppm - Death within 1 to 3 minutes.
1,600 ppm - Nausea within 20 minutes. Death within one hour.
800 ppm - Nausea and convulsions. Death within two hours.
400 ppm - Frontal headaches 1-2 hours. Life threatening after 3 hours.
50 ppm - Maximum concentrations for continuous exposure in any eight-hour period.
9 ppm - Maximum indoor air quality level.
0 ppm - Desirable level.
---
Oil Combustion
Oil contains considerably more nitrogen than gaseous fuels
NOX levels are generally much higher than on natural gas
Oil flue gasses are tested with a Bacharach smoke spot test and combustion analyzer
Test gives a number from 0 (no smoke) to 10