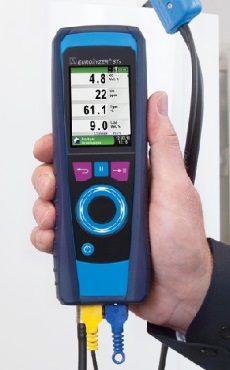 Eurolyzer STx
NEW!
New to the North American market, the newly released Eurolyzer STx flue gas analyzer is the most versatile and advanced measuring instrument on the market.

More than a flue gas analyzer, the Eurolyzer STx is expandable to measure pressure, temperature, humidity, flow rate, air quality, gas leak and more. It connects easily to PCs, printers and mobile apps right from the box for easy data transfer.

Upgrade today!


Download Brochure (PDF)


Kits
Starter Set - O2, CO/H2, P

$2,899 CAD (Approx $2,199 USD)
Pro Set - O2, CO/H2, P-diff
Connector set f. series 4600T and S2600

$2,999 CAD (Approx 2,299 USD)
Starter Set NOx - O2, CO/H2, NO
Flue Gas Probe AL, 1-Ther

$3,399 CAD (Approx $2,599 USD)
Pro Set NOx - O2, CO/H2, NO, P-diff

$3,899 CAD (Approx $2,999 USD)
All kits include:
Eurolyzer STx flue gas analyzer
Rugged, hard shell case
Modular probe system with:

Base handle
12" Interchangeable probe
5 x Infiltec fine filters
5x Teflon fiber membranes

Ambient air temperature sensor
Data cable, MicroSD and card reader
AC power supply
Spare Parts Set
Innovative
With its intuitive design and powerful connectivity via Bluetooth®, the Eurolyzer STx connects to your other devices for easy data transfer, while the intuitive touch pad and large colour display makes navigation and operation quick and easy.
Expandable
With the CAPBs® series, you can quickly expand your Eurolyzer STx to take measurements in a variety of applications. These modular sensor tools simply connect to the base handle included in the Eurolyzer STx package. Plus, data captured by the CAPBs® is easily transferred with Bluetooth® connectivity.
For pricing or to order call us at (519) 747-5042 or email sales@kwe-tech.com