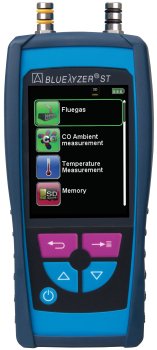 Bluelyzer ST
NEW!
Many modern central heating systems are adjusted to CO2 (carbon dioxide) for optimal performance and safety. In order to do this, measuring the composition of the flue gas is essential. Besides carbon dioxide, the concentration of carbon monoxide and the resulting toxicity index are of great importance for safety and for environment considerations.

The BlueLine® BLUELYZER ST offers an accurate flue gas analysis for managing and maintaining central heating systems in an unrivalled compact form.


Download Brochure (PDF)


Kits
Starter Set - O2, CO

$1,499 CAD (Approx $1,199 USD)
Pro Set - O2, CO, P

$2,999 CAD (Approx 2,299 USD)
All kits include:
Bluelyzer ST flue gas analyzer
Rugged, hard shell case
Flue gas probe system with:

Base handle
12" Interchangeable probe
5 x Infiltec fine filters
5x Teflon fiber membranes

Ambient air temperature sensor
Data cable 1m
Power Supply
Spare Parts Set
Safety
Safety and security are important aspects in all BlueLine® measuring instruments. For your safety, and the safety of the occupants/users of the building where the central heating system is located, the BLUELYZER ST offers a special function for measuring the concentration of carbon monoxide in the surrounding air. This will enable you to recognize a malfunction in the central heating system and make repairs in time.
Functionality
The appliance only has 5 controls, a clear English menu structure and a large TFT colour display. The built-in rechargeable battery makes using normal batteries superfluous. You can read the measurements from the display, store it on an optional MicroSD card or print it with the optional EUROprinter.
For pricing or to order call us at (519) 747-5042 or email sales@kwe-tech.com