Panel Features
What Goes into a Panel?
A panel can be as elaborate as you need it to be. What goes inside a panel is determined by what it is intended to control and/or monitor.
Panel Door
The door will contain illuminated LED switches to control various pumps and systems manually or automatically.

Additionally, many panels will have system controls, or touch screen interfaces built directly into the panel door. This way everything can be programmed and monitored from the outside of the panel.
Wiring
All wiring is carefully labeled and routed throughout the panel's wiring ducts. We use high-grade, insulated copper wiring and each one is properly outfitted with a connector or ferrule.

All wiring going in and out of the panel is fed through strain-relief connectors and connect to a terminal block on the inside.
Electronics
Apart from transformers, relays, and timers, we also install many types of smart electronics. Devices like PLCs, boiler controls, VFDs and digital input/output modules.

We can provide the programming for PLCs upon request.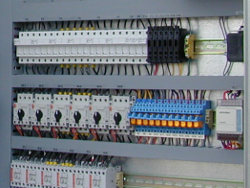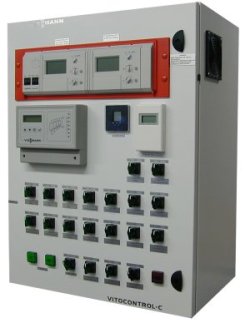 Typical System Selections

Space Heating
Mixing Valve Control
Fan Coil
Zoning with Pumps and/or Valves
Pool & Spa

Domestic Hot Water
Multiple Temperature Storage
Zone Valve Control
Set Point Control

Snow Melt
Snow and Ice Sensor
Driveway, Walkway, Patio

Solar
Single/Double Tank
DHW, Pool, Space Heating

Pump Control