Versatronik
®

300

The Versatronik 300 is a control capable of cascading up to 16 LON Enabled Viessmann boilers.

Features
Outdoor Reset
0-10VDC Input (setpoint)
Heat Demand (dry contact)
Enable/Disable Contact
Relay Tests
Auxiliary Boiler Enable
Metric or English Units
Function
The Versatronik 300 connect up to 16 Viessmann boilers using CAT5 Ethernet cable. After some basic configuration settings, such as number of boilers and sensor options, the control will begin cascading your boilers.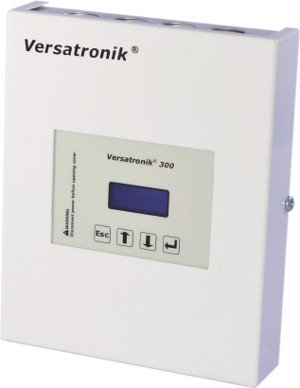 Simplicity
This control has been designed for minimal configuration:
Set number of boilers.
Set sensors.
Set boiler programming.
---
---
Overview
Specifications
Documentation
Overview
Up to 16 Viesmann LON enabled boilers
Stages boilers based on average modulation and common loop temps
Rotation of boilers ensures equal runtimes
Individual boiler eco-lock (temperature based shutoff)
Sensors/Inputs
S1 Outdoor (5K)
S2 Supply Sensor (10K)
S3 Return Sensor (10K)
INT Interlock connection for AUX equipment
AUX external call for heat or 0-10V signal
Outputs
Common Supply Pump (120V)
AUX can call demand for extra equipment (120V)
Fault output signal (120V)
Ordering Information