Versatronik
®

200

This is our latest, most versatile boiler control. This system will get the most use out of your modulating/ condensing boilers by combining well-placed sensors with smart algorithms.

Flexibility
The Versatronik 200 can be used for a variety of applications, including hydronic heating, solar control and domestic hot water.
Consider the following heating applications:
Manage up to 8 modulating boilers
Additional high-capacity stand-by boiler
Control two zones (pump and mixing valves)
Maintain hot water tank at temperature
Efficiency
This system uses outdoor temperature to calculate the most efficient setpoints.
Scheduling allows the system to reduce energy when it's not needed.
It also makes use of two room thermostats which control their respective heating zones (this is optional).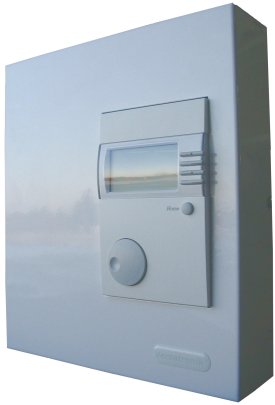 Ease of Use
This unit has been designed to make it easy to read all sensors, schedules and setpoints.
It also features a straight-forward menu system to make programming a breeze.

Rotary knob for navigating through menu
Backlit four-line screen with easy-to-read fonts
Four buttons for selecting lines to view or change
Communication with PC for external monitoring and control (option)
---
Overview
Specifications
Documentation
Accessories
Controls
Up to 8 OpenTherm boilers (or a 2-stage on/off boiler)
One additional boiler (on/off)
Two heat-zone pumps and mixing valves
Domestic hot water, common supply, and circulation pumps
Programmable
Seven day programmable
Three heating periods per day (different temperature setpoints)
Two heating zones, and one domestic hot water schedule
Holiday and party modes
Other features
Optional room thermostats for each zone
Outdoor sensor for more efficient boiler setpoint calculations
Ordering Information