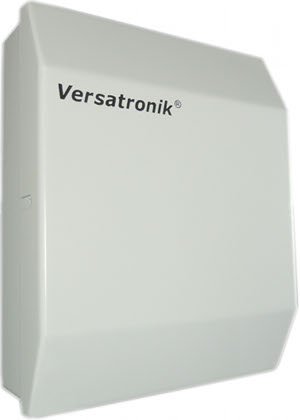 Versatronik
®

10
Works with Viessmann Vitodens 100 boilers
The Versatronik® 10 Pump Module manages your heating and hot-water pumps for the Viessmann Vitodens 100 boiler.

It has a built-in timer that can control bleed- and override-times which prevent excess heat to build up inside the boiler.

The Versatronik® 10 is wall-mounted and requires a standard household electric outlet.

For your convenience, we now accept Interac, Visa and MasterCard in-house. Please contact us for pricing.
---
Overview
Specifications
Documentation
Features
Pump module for DHW and space heating pumps
Bleed time to carry excess heat away from boiler after DHW call
Override protection, if DHW production is taking too long, meet space heating demand first
Programmable
By DIP switch
DHW bleed time: Off / 60 seconds / 120 seconds
Override protection: Off / 0.5 hour / 1 hour
Inputs
DHW aquastat - dry contact (call for DHW)
Room thermostat - dry contact (call for heat)
Call for space pump - 110VAC signal
Outputs
DHW pump - 110VAC 3A
Space pump - 110VAC 3A
Call for DHW - dry contact (to boiler)
Call for heat - dry contact (to boiler)
Ordering Information