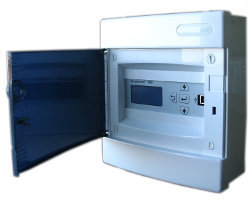 Controls
KWE Technologies Group has several controls available for your home-heating needs.

For your convenience, we now accept Interac, Visa and MasterCard in-house. Please contact us for pricing.

This room thermostat features seven-day programming and is meant to work with any OpenTherm modulating boiler.


DHW Pump Control Module with bleed-off timer.


Small System Control.


The system manager for communication with up to eight boilers.


Zone Pump Controller. Easy to install with lots of features.


Cascade control for Viessman boilers (up to 16).